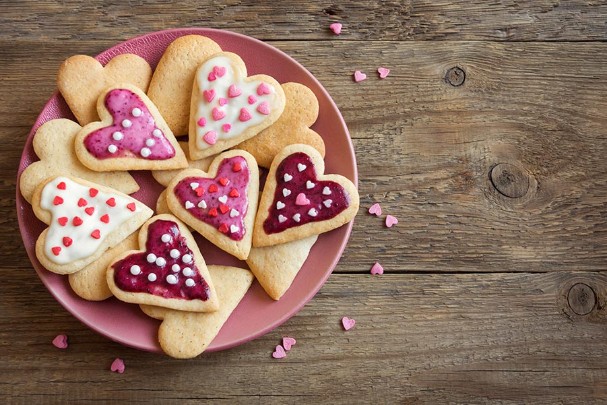 Valentine's Day Without the Added Sugar
Valentine's Day is a great time to enjoy the sweets things—friends, family, and other loved ones—but all the candy and baked goods this holiday brings add to a bitter reality. According to the American Heart Association, a diet with too much added sugar can significantly increase your likelihood of heart disease. Excessive sugar intake also puts you at an increased risk of obesity, type 2 diabetes, and other chronic diseases.
What Exactly is Added Sugar?
While foods like fruit and milk contain naturally occurring sugars (called fructose and lactose, respectively), "added sugar" refers to any caloric sweetener added to foods during processing or preparation. Added sugars can include natural sugars as well as other, chemically manufactured sweeteners like high fructose corn syrup. As an example, a fresh pear has no added sugar. Fruit slices in syrup, however, contain a significant amount of added sugar because the syrup they're stored in adds to the total sugar content.
According to the CDC, Americans should limit their intake of added sugars to less than 10 percent of their total daily calories. In a 2,000-calorie diet, for example, no more than 200 calories should come from added sugars. On an average day, most Americans consume more than this. That's why candy-centric holidays like Valentine's Day are especially important times to evaluate how we can celebrate with less sugar and more heart.
Celebrate in a Healthier Way
This Valentine's Day, try celebrating with these healthier alternatives:
Substitute dark chocolate. Dark chocolate has a lower sugar content than milk chocolate, and its flavonoid content may increase heart health.
Create fun treats from fresh fruit. Try cutting fruit into heart shapes, putting fruit on skewers, or even dipping it in a small amount of dark chocolate. By keeping healthier foods at the forefront and only using added sugars to encourage eating fresh fruit (especially for children), you can reduce the total sugar content you'd otherwise consume on Valentine's Day.
Celebrate what's really sweet. Re-focus on the reason for the holiday. Whether you're celebrating romantic love, friendship, or family bonds, telling someone what you love about them is always sweet—without the risk for heart disease!
Make homemade crafts. Homemade cards, heart-shaped paper streamers and garland, and other decorations can make your day feel extra festive! Plus, you can do these crafts with the kids for quality time without the calorie content.
Swap ingredients. In your baked goods, trade butter for a healthy oil (such as olive oil), swap whole milk for milk alternatives, and exchange sugar for honey, agave, or fruits. Find more helpful food swaps here!
Find a Doctor
---
Looking for a doctor? Perform a quick search by name or browse by specialty.