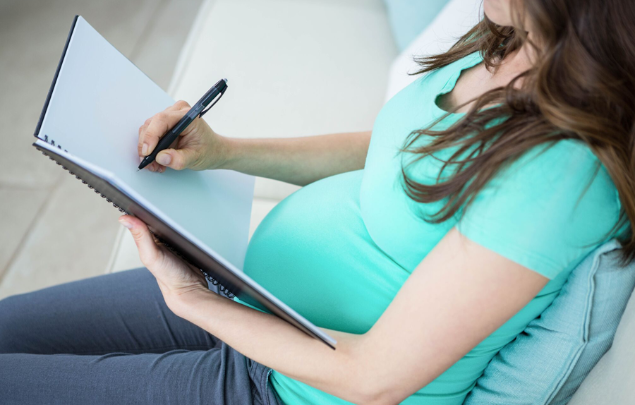 Your Guide to Developing a Birth Plan
When you go into labor, you might not feel like answering a lot of questions or waiting on your preferences for comfort to be fulfilled. It's smart to develop a birth plan prior to your labor day to communicate your preferences to those involved in your delivery. A birth plan is a document that shares your preferences with your family and patient care team. Creating a plan ahead of time can provide peace of mind leading up to your special day and during your stay in the delivery room. Remember who, what, how, and where when developing your birth plan. 
WHO: Visitors & Care Team
Who will be in the delivery room when it comes time for you to deliver? Specifying who you want ahead of time can let everyone involved know where to be at the right time.
Do you want a doula? A doula is a labor support companion that advocates for the mother to give her a safe and empowering experience.
Will there be children present? Decide when you want siblings or other young relatives to be in your delivery room.
Who is part of your patient care team? Make sure you know who will be helping you through labor and after delivery. You may want to request a particular specialist.
WHAT: Your Comfort
You have plenty of options to make your day special. Decide what would make you most comfortable.
Do you want mobility or to stay in bed? You may prefer to be able to walk around or just rest, but this may depend on your condition and the facility equipment.
How will you stay hydrated? Do you want IV fluids or opt for sipping water, coconut water, or juice?
What do you want to wear? Would you prefer a hospital gown or wear your own clothes?
Do you want to listen to music? Having music playing in the delivery room may make your stay more enjoyable. Make a playlist in advance to bring with you.
What items do you want with you? You can choose to bring your own pillow, whether you want a camera in the room or any other items you need for your comfort.
HOW:  Pain Management
When the time comes and you experience the aches and pains of labor, how will you manage it? Choosing your preferences will help your care team know what to do when you experience pain.
How will you manage pain? Would you like to be massaged, use hot and cold packs, try different positions, self-hypnosis, or medication?
What activities, props, and positions do you plan to use? Would you want to try walking, standing, or squatting? Your facility may offer props, such as birthing balls, to ease your pain or may have a shower you can use.
Do you want pain medication? If you want pain medication, let your care team know what works best so they can have it ready for you. If you don't want pain medication, come up with a game plan in case you feel like you need it during labor.
Do you want a saline lock or routine IV? A saline lock can be capped off and used when needed so you are not attached to an IV pole. However, your condition may require a traditional IV. Talk with your healthcare provider for more information.
WHERE: Facility Options
The following options vary depending on where you are giving birth. Different facilities offer different amenities and services, including when it comes to the care of your newborn.
Does your facility offer VBAC? VBAC stands for vaginal birth after cesarean. Not all facilities offer this option and may require you to have a C-section. Learn what you need to know about VBAC.
Do you want couplet care? If you want your baby to stay in the room with you at all times instead of being taken to the nursery, make sure your facility offers couplet care.
Do you prefer skin-to-skin after birth? Immediately after giving birth, you may have the option to have your newborn placed on your chest. This promotes bonding and can comfort your baby as he or she enters the world.
Do you want your newborn to have delayed bathing? Delayed bathing provides many health benefits to newborns, including body temperature and blood sugar stability. 
Find a Doctor
---
Looking for a doctor? Perform a quick search by name or browse by specialty.