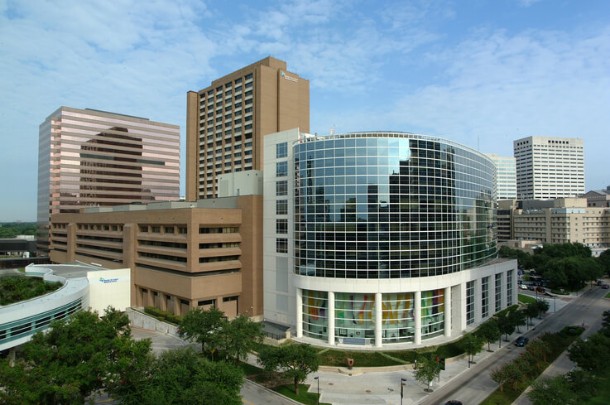 The Terrace at Baylor St. Luke's
The Terrace at Baylor St. Luke's offers nine luxurious rooms in which to relax, recuperate, and rejuvenate both your body and mind. Located on the 23rd floor with panoramic views of Houston, The Terrace suites feature opulence combined with state-of-the-art medicine and highly personalized care to ensure the most soothing and comfortable experience possible for you and your family members during your stay with us.
Elegant accommodations
Designed for patients who prefer upgraded accommodations like those found in fine hotels
The Terrace suites offer a wide array of services and amenities that go beyond a traditional hospital setting. Each spacious suite provides a serene environment, with features like artistic lighting, walk-in showers, and large picturesque windows overlooking the Texas Medical Center. Each suite is also outfitted with a 43" flat-screen TV with satellite, DVD player, and wireless Internet, along with daily newspaper delivery to keep you connected and up to date. Plus, the suites have adjoining accommodations for guests and a private family room to keep your loved ones close and in comfort.
Full medical capabilities
State-of-the-art medical equipment and high-quality care couched in the comfort of an elegant environment
The Terrace suites are well equipped to serve acutely ill patients, including those admitted for surgery, with high-quality care from our trusted, world-class team at Baylor St. Luke's Medical Center.
Specialized nursing care
Personalized care with a low nurse-to-patient ratio
With multi-disciplinary clinical expertise, our nursing professionals provide personalized, skillful medical care with attention to the smallest details and sensitivity to individuals of many cultures.
Ask your physician if The Terrace is an option for you. 

For more information, please call us at (832) 355-4960.
Find a Doctor
---
Looking for a doctor? Perform a quick search by name or browse by specialty.
MyChart
For existing patients, please log in with your username and password to schedule an appointment.