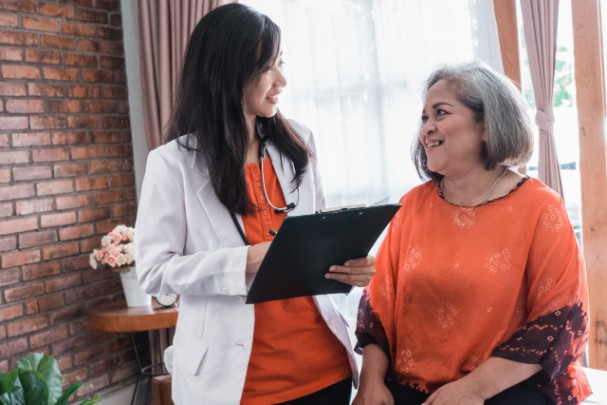 Are You at Risk of the 5 Most Common Cancers?
Cancer, a condition where cells multiply at an abnormally fast rate, can develop in any part of the body. Every cancer has its own risk factors, and it's hard to keep track of the symptoms that might help you to identify the disease, so many people find themselves in the dark when it comes to detecting cancer early. Learn about who's most at risk of the five most common types of cancers and symptoms to be aware of.
1. Non-Melanoma Skin Cancer
Who Is Most at Risk
Older adults
Fair-skinned people
Smokers
Tanners
People with previous skin cancer diagnoses or skin injuries
What to Look For
Changes to the skin, such as bumps, discolorations, sores, and growths, that grow rapidly or take abnormally long amounts of time to heal
2. Breast Cancer
Who Is Most at Risk
Women (55+)
People who have undergone hormone therapy
Those with a history of breast cancer, either personal or familial
What to Look For
Bumps or lumps in the breast
Discharge from the nipple
Puckering of the breast
Changes in the texture of the skin on the breast
3. Lung Cancer
Who Is Most at Risk
Smokers and people exposed to secondhand smoke
People with a family history of lung cancer
What to Look For
Coughs that don't get better, or get worse, after an extended period
Wet coughs that contain blood
Chest pain that's exacerbated by laughing, coughing, etc.
Frequent lung infections
Difficulty taking deep breaths
4. Prostate Cancer
Who Is Most at Risk
Men (50+)
Men of African descent
Men with a family history of prostate cancer
Overweight men
What to Look For
Urine or semen that contains blood
Difficulty urinating
An inability to get erections
A constant need to urinate
5. Colorectal Cancer
Who Is Most at Risk
Heavy drinkers
Overweight people
Smokers
Inactive people
People with a history of inflammatory bowel disease
What to Look For
Bloody stool
Changes in color and consistency of stool
Cramps
Find a Doctor
---
Looking for a doctor? Perform a quick search by name or browse by specialty.