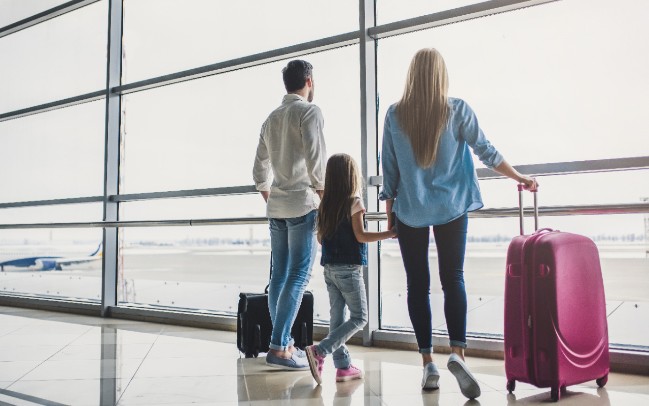 Germs on a Plane: How to Avoid Illness While Traveling
Are you heading on a summer trip requiring air travel? Cabin fever isn't the only thing to be concerned about. Buckle up for this comprehensive list of helpful tips and tricks to help you stay safe and healthy in transit!
Stop the Spread
Perhaps the easiest way to avoid sickness from flying is to do your part to stop the spread of germs that cause illness. Wash your hands often and thoroughly when possible, particularly after using the restroom, before eating, and after touching communal objects. Carry an alcohol-based hand sanitizer with you for times when soap and water are not available. Avoid touching your eyes, nose, and mouth, as these are direct routes for germs to enter your system.
Additionally, keep the air vents open above your seat to encourage air circulation around you. If you get cold easily, pack a hooded jacket and an extra pair of socks to keep you cozy throughout the flight.
Hydrate for Health
Dehydration is one of the most preventable illnesses people get when traveling. The humidity in an airplane cabin is likely lower than that of your normal environment, and your body is unaccustomed to it. Prepare for this by consuming an adequate amount of water and other fluids to prevent dehydration. If possible, avoid alcohol and caffeine, as these diuretics can work against you.
Get Moving
If you have a history of cardiovascular disease, pulmonary embolisms, or deep vein thrombosis (DVT), check with your healthcare provider to see if traveling by plane is a safe option for you. DVT occurs when a blood clot forms in a vein, restricting blood flow to certain parts of the body. Your risk of DVT increases when on an airplane due to extended periods of sitting.
Get moving whenever possible by walking up and down the aisle, wiggling your feet and toes, and flexing your calf muscles. This is a great way to increase blood circulation and reduce your risk of complications.
Don't Be Vulnerable—Vaccinate!
Another easy way to prevent illness is to make sure you and your family are up to date on all vaccinations prior to traveling to a new environment. Check to see if your destination requires or recommends any specific vaccinations that can protect against foreign diseases your body may not be immune to.
Another helpful hint is to carry your prescribed medications with you at all times for easy access if needed. Visit your Baylor St. Luke's Medical Group primary care physician or pediatrician to prepare for safe travels by air and make sure you have your prescription refills in order.
If you plan to travel to the Houston area from abroad for medical treatment, you can trust our multilingual, professional team to manage all your scheduling, transportation, and lodging needs.
 
Sources:
USA Today | Germs on Planes: How to Stay Healthy at 30,000 Feet
The Washington Post | Want to Stay Healthy While Flying? Follow This Advice from an Aviation Doctor
CDC | Air Travel
Find a Doctor
---
Looking for a doctor? Perform a quick search by name or browse by specialty.