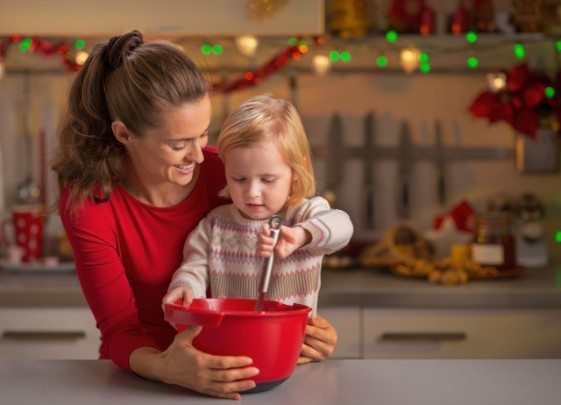 The holiday season is meant to be a time of joy, love, and togetherness, but sometimes it can take a toll on your health. We are committed to creating healthier communities and hope to give you a healthier holiday. Give yourself the gift of holiday health with these tips.
Up on the Housetop
Holiday Injuries
While you are up on the housetop decorating your home in festive lights, take extra safety precautions to make sure your holidays are not hindered by an accident. Thousands of people head to the emergency room each year due to holiday decorating injuries. Falls account for the most emergency room visits, yet there are more dangers of which to be cautious.
The holidays bring even more fire hazards to the home. Fires can easily occur in the kitchen as families prepare large dinners. Decorations, including candles and Christmas trees, can also cause fires. Be sure to follow kitchen safety tips, substitute real candles with electric candles, and buy fire-resistant artificial trees or extremely fresh trees if you prefer real trees.
An increase in alcohol consumption around the holidays is cause for extra safety precautions. Over 800 Americans are killed in drunk driving accidents every December. If you drink alcohol, find a safe ride with a friend or transportation service. In addition to not operating vehicles after consuming alcohol, also avoid handling cooking knives and using heat sources in the kitchen after drinking.
Lastly, decrease the risk of a holiday accident by giving appropriate gifts. Presents often including wheels can pose a safety hazard and lead to a trip to the ER. Learn more about toy safety here.
Chestnuts Roasting on an Open Fire
Food Safety
To prevent foodborne illnesses, be sure to follow these food preparation safety tips.
Avoid cross-contamination by keeping raw meats separate from other foods at all times.
Sanitize utensils, surfaces, and dishes that have touched raw meat.
Use a meat thermometer to make sure red meats and fish are cooked to an internal temperature of 145 degrees Fahrenheit, ground red meats cooked to 160 degrees Fahrenheit, and poultry cooked to 165 degrees Fahrenheit.
Keep cooked food above 140 degrees Fahrenheit and cold food below 40 degrees Fahrenheit at all times.
Throw away any perishable food after two hours of sitting out.
Overeating and overindulging during the holidays is a common occurrence, but there are ways you can control your eating habits to keep your body feeling its best.
To avoid overeating at celebrations, eat healthy foods and even a snack before arriving. This will help you eat in moderation. It is also a good idea to choose the lean meats, fruits, and vegetables instead of the more unhealthy options. Avoid standing near the buffet table to prevent mindless snacking and opt for a smaller plate to control your portion sizes when it is time to eat. However, there is no need to limit yourself entirely. It's also important to enjoy yourself, the food, and the company.
If you are in charge of the holiday dinner or even just a dish, you can make small recipe adjustments to popular beverages and treats that can have a big impact on health. Cut the extra fat and calories in eggnog and hot chocolate by using skim milk instead of cream and taking it easy on toppings. Try making apple cider yourself with fresh, low-sugar apple juice and natural spices. For holiday treats, substitute butter with applesauce, use a sugar substitute like stevia, and use whole-wheat flour instead of refined flour.
Have Yourself a Merry Little Christmas
Taking Care of Yourself
The holidays are also an important time to take care of yourself. Start new healthy holiday traditions by focusing on your physical and emotional health. Take time to relax, and don't feel the need to do everything yourself. Simplify your celebration, get the family involved, and set your priorities. Only do the holiday rituals you enjoy, and don't be afraid to push some festivities to a later date to lighten your schedule. If you are unable to visit your family, see if you can spend time with nearby friends or volunteer to spend time with those who may also be separated from family.
Focus on what's important this holiday season rather than the commercial aspects. Overcome the holiday blues by spending time with family, friends, and by yourself when you need it. Set realistic goals with your schedule, a practical budget, and remember to get plenty of rest and exercise. The winter season is also cold and flu season, so be sure to wash your hands frequently, get vaccinated, and see your doctor if you feel ill.
St. Luke's emergency departments are open 24/7 for any holiday emergencies. St. Luke's Health wishes you and your family a healthy and happy holiday.
Find a Doctor
---
Looking for a doctor? Perform a quick search by name or browse by specialty.