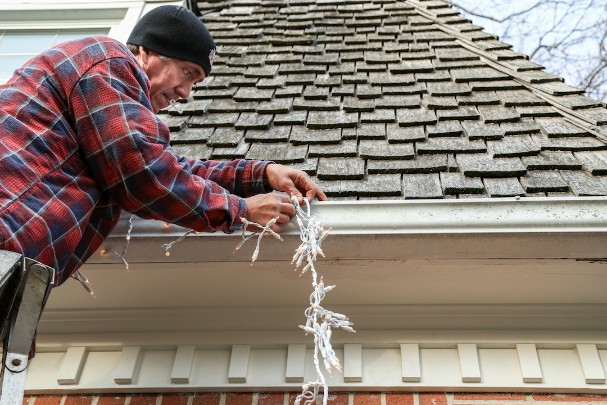 Up on the Housetop: Decorating Safety
We all want the holidays to be festive and fun, but it's important to be aware of the hazards that can come along with seasonal decorating. This year, keep the following guidelines in mind to keep your family safe.
Merry and Bright
Hanging up strings of lights is a holiday tradition for many families. In addition to the hazards of falling while hanging lights outside, the lights themselves can pose many risks. Use these lights safely to prevent accidents and injuries.
When putting lights on a Christmas tree, be sure each strand is free of frayed or exposed wires, broken sockets, or loose connections, even if they're fresh out of the box.

Only use lights that have been certified for outdoor use as indicated on the label.

Never use nails or tacks to hang outdoor lights. Instead, string lights through hooks or insulated staples. Do not tug on the strings of lights when you're removing them.

Any outside decorations should be plugged into circuits with ground fault circuit interrupters to prevent shocks.

When hanging lights indoors, check that your furniture is not pinching the wires. If you have small children, keep electric decorations out of their reach.

Never plug more than three strands of lights into one extension cord to avoid overloading it.
O Christmas Tree!
When bringing a tree indoors, whether artificial or fresh, there are a few ways to ensure your family can enjoy it safely.
If using a fresh tree, be sure to trim the trunk and keep the tree stand filled with water. Not only will this make your tree stay green longer, but it will also prevent it from drying out and potentially becoming a fire hazard.

Consider tree placement carefully. Keep trees away from high-traffic areas and far from fireplaces, radiators, or portable heaters.

If using a metallic tree, do not use string lights. If the lights are faulty, someone who touches the tree could get electrocuted.
Deck the Halls
Some of what makes the holidays great are the little details. But if these details get a bit too little, these decorations can go from fun to dangerous. Keep the following in mind when decorating this season.
Artificial snow sprays that make Southern window panes more festive can also irritate the lungs. Follow all directions on the can, and use this product in a well-ventilated area.

Spun glass "angel hair" used in nativities can irritate the eyes and skin. Wear gloves when decorating with this material, and keep it away from areas where children might be tempted to play with it.

Any decorations you use on your tree, such as tinsel or artificial icicles, should be non-flammable to lower the risk of catching fire.

Even when using larger ornaments or decorations, be aware of small pieces that could fall off and pose a

choking risk for young children

. If you have any decorations that look edible, be sure children know not to put them in their mouths.
Holly Jolly Christmas
When bringing greenery inside this winter, be aware of what's poisonous to prevent children or animals from accidents.
Many people use mistletoe berries, Jerusalem cherry, and holly berry for Christmas decor, but these plants are toxic and could pose a threat to children.

Poinsettias, one of the most common holiday plants, are mildly toxic to pets if ingested. While no lasting harm will likely come to your pet, they may drool, vomit, or have diarrhea if they take a bite of it.

If you use any of these plants this Christmas, be sure to keep them out of reach of children and pets.
There are many safety risks during the holidays, but the most wonderful part of the season is coming together with family for a safe and happy celebration. If any accident should occur during your festivities, our community emergency centers are open 24/7 to help you get your holiday back on track. From all of us at St. Luke's Health, we wish you a joy-filled holiday season.
Sources:
Poinsettia
Find a Doctor
---
Looking for a doctor? Perform a quick search by name or browse by specialty.