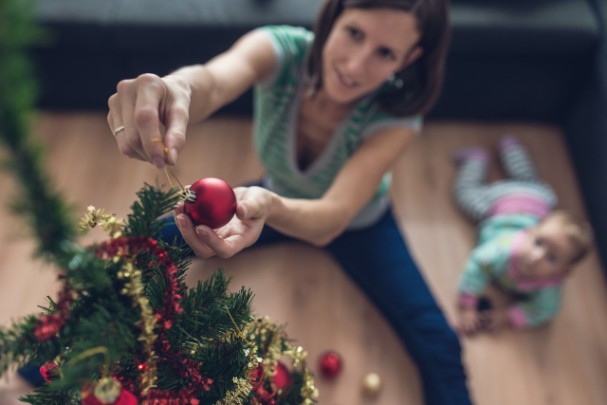 Santa Baby: How to Keep Your Child Safe This Holiday Season
Decking the halls is one of the classic ways to get into the spirit of the holiday season. But between the massive trees and the fragile ornaments, decorations can pose safety issues for your little ones and their endless curiosity. With these tips and tricks, childproofing your home for the holidays can be a holly jolly experience.
Trim the Tree
If you opt for a live Christmas tree, make sure it's fresh before you purchase it. Older trees will have needles that fall off easily and break when bent. These trees tend to be dry and can pose a fire hazard, and loose needles can cause abrasions or even become a choking hazard if a child puts them in their mouth. Maintain the health of the tree as it stays in your home, and be sure to clean up any loose needles that fall off.
When setting the tree up in your home, secure it in a stand. Unsecured trees can tip over and injure someone. Place ornaments that are fragile or have metal hooks higher up on the tree, out of reach of young children. Finally, don't use decorations that are small or have small parts, as these can pose a choking hazard for the curious child.
Put up the Plants
Many people use plants to decorate for the holidays. However, many iconic winter plants, including poinsettias, mistletoe, and holly berries, are poisonous if ingested. When decorating with them, place them high enough so that they are out of reach of children. Or better yet, opt for artificial versions, which you can use for years to come.
Gift With Greatness
Holiday shopping can be chaotic between the large crowds and the sensory overload of decorations, carols, and festive scents throughout all the stores. Add in trying to find an appropriate toy for your child, and it can become downright overwhelming. Look for toys labeled with the correct age, and then confirm they don't have small, breakable parts that a child might swallow.
Pick up the Paper
For many families, it's a tradition to sit down and unwrap gifts together. As soon as someone unwraps a gift, be sure to clean up any discarded wrapping materials. Young children might chew on wrapping paper, bags, bows, and ribbons, which can pose a choking hazard if swallowed.
Make the holidays merry and keep your little Santa babies safe this season. In addition to your typical holiday preparations, take a minute to find your closest St. Luke's Health community emergency center. In the event of an injury, you can save precious time because you'll already know where to go.
 
Sources:
Safe Kids Worldwide | Holiday Safety Tips
KidsHealth | Making the Holidays Safe
Find a Doctor
---
Looking for a doctor? Perform a quick search by name or browse by specialty.