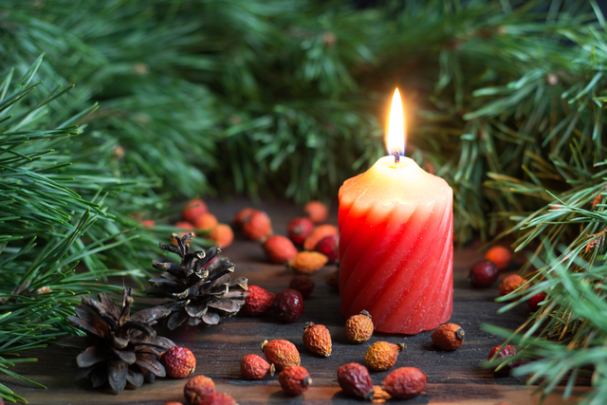 Plan for It: Holiday Fire Hazards
How safe is your home from fire hazards during the holidays? While the warm light from a fireplace or festive holiday candle can be comforting, it can also be dangerous if you are not careful. The holiday season can be the most dangerous time for fires and burns. To keep your family safe, refresh everyone on the following fire safety tips.
Common Holiday Fire Hazards
Candles
Swap real candles in menorahs or advent wreaths with electric candles.
​Keep candles, lighters, and matches out of reach from kids and pets.
Put candles on sturdy, even surfaces away from flammable objects.
Blow out candles before you leave the room to avoid leaving flames unattended.
Move candles away from flammable materials like curtains and holiday trees.
Never extinguish candles with water as it can shatter glass and splatter hot wax.
Kitchen Stoves
Keep an eye on whatever you cook, sear, and fry.
Turn pot handles to the back of the stove so kids can't reach them.
Keep small children out of the kitchen when cooking.
Leave a lid or cookie sheet nearby to cut off oxygen if a kitchen fire starts.
Never extinguish grease fires with water; either use a fire extinguisher or smother with a baking sheet or baking soda.
Fireplaces
Clean and inspect your fireplace and chimney annually.
Don't put wreaths, wrapping paper, or tree limbs in the fireplace.
Always use a mesh screen to prevent embers from escaping.
If you clean out your fireplace after each fire, make sure the ashes cool completely, and douse them with water before discarding.
Trees & Decor
Keep holiday trees watered and discard when dry.
Move trees away from heat sources and open flames.
Inspect all lights and electric decorations for bare wires, kinks, or frays.
Never plug more than three strands of lights into one extension cord.
Opt for nonflammable ornaments and decorations.
Find a Doctor
---
Looking for a doctor? Perform a quick search by name or browse by specialty.