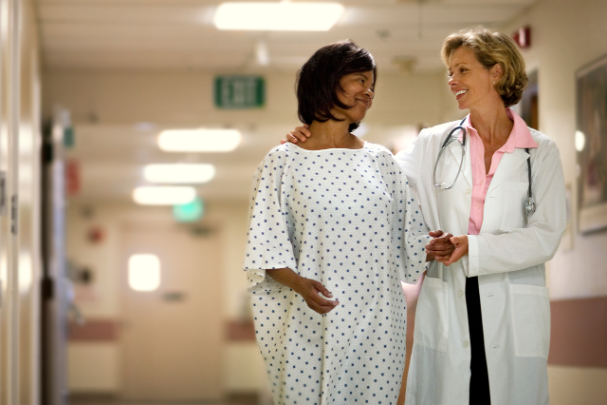 Reducing Chemotherapy's Role in Breast Cancer Treatment
Ask just about anyone how doctors treat cancer, and their response will most likely include the word "chemotherapy." But the team at the Lester and Sue Smith Breast Cancer Center at the Dan L Duncan Comprehensive Cancer Center is working to change that perception. Chemotherapy can be expensive and often comes with a range of uncomfortable side effects, from hair loss to nausea. Thanks to new research, some HER2-positive breast cancer patients might not even have to consider this course of treatment. 
What Is HER2-Positive Breast Cancer? 
HER2, or human epidermal growth factor receptor 2, is a gene that is a part of all breast cells. HER2 creates a protein that allows these cells to grow, heal, and reproduce. However, some women have a genetic mutation that leads to excessive amounts of HER2, which in turn can produce too many proteins. This causes breast cancer cells to multiply rapidly, creating an aggressive and fast-growing tumor. Doctors refer to this phenomenon as HER2-positive breast cancer. 
Developing New Treatment Combinations for HER2-Positive Breast Cancers 
The researchers at the Lester and Sue Smith Breast Cancer Center have been working to reduce the amount of chemotherapy that patients receive. In one clinical trial, breast cancer patients received a combination therapy consisting of antibodies and a HER2 inhibitor. Women who had estrogen receptor-positive cancer also received an aromatase inhibitor to lower their estrogen levels and reduce the spread of cells. 
Researchers found that 27% of the 64 women who participated experienced a pathologic complete response, which means their tumor completely disappeared after 12 weeks of combination therapy. Another 33% of study participants had a drastic reduction in tumor size, with only small amounts left after treatment. 
Does Chemotherapy Make a Difference in Breast Cancer Patient Outcomes? 
Phase 2 of the PERTAIN clinical trial is seeking to determine the difference in outcomes between patients who receive chemotherapy and patients who don't. Researchers divided a group of women with HER2-positive breast cancer into two groups. Group A received IV chemotherapy, hormone-based chemotherapy, antibodies, and an estrogen inhibitor. Group B had the same treatment, minus the chemotherapy. Group A experienced a median of 18.9 months without any progression of their tumor, while Group B had a median of 15.8 months. However, 33.1% of Group A experienced serious adverse events throughout the trial, while only 19.4% of Group B did. This information is beneficial as researchers analyze the results from this study to produce new ideas for treating breast cancer in the future. 
"This was the first study looking at this particular combination, with or without chemotherapy, for the treatment of HER2-positive disease. The results of the phase 2 trial are encouraging because chemotherapy is not always well tolerated by patients, so this allows us to introduce another less toxic agent into treatment and still see positive results as well as improved quality of life for patients," says Mothaffar Rimawi, MD, Executive Medical Director at the Dan L Duncan Comprehensive Cancer Center and Co-Leader of the Breast Cancer Program.
As research continues, physicians hope to find revolutionary therapies to reduce pain and improve outcomes for patients with HER2-positive breast cancer. If you are interested in participating in a clinical trial, learn about the available opportunities at the Dan L Duncan Comprehensive Cancer Center at Baylor St. Luke's Medical Center, one of only three NCI-designated Comprehensive Cancer Centers in Texas. Share your thoughts with your St. Luke's Health oncologist, who can help you determine if participation is the right option for you. 
Sources: 
Dan L Duncan Comprehensive Cancer Center | Annual Report 2019
BreastCancer.org | Aromatase Inhibitors
BreastCancer.org | HER2 Status 
VeryWell Health | The Role of Estrogen in Breast Cancer
American Cancer Society | Breast Cancer Hormone Receptor Status
Baylor College of Medicine | Cutting off Cancer's Lifelines
Baylor College of Medicine | Promising results shown from combination therapy in HER2-positive and hormone receptor-positive metastatic or local advanced breast cancer
ASCO Pubs | First-Line Trastuzumab Plus an Aromatase Inhibitor, With or Without Pertuzumab, in Human Epidermal Growth Factor Receptor 2–Positive and Hormone Receptor–Positive Metastatic or Locally Advanced Breast Cancer (PERTAIN): A Randomized, Open-Label Phase II Trial
NCI | NCI Dictionary of Cancer Terms
Find a Doctor
---
Looking for a doctor? Perform a quick search by name or browse by specialty.