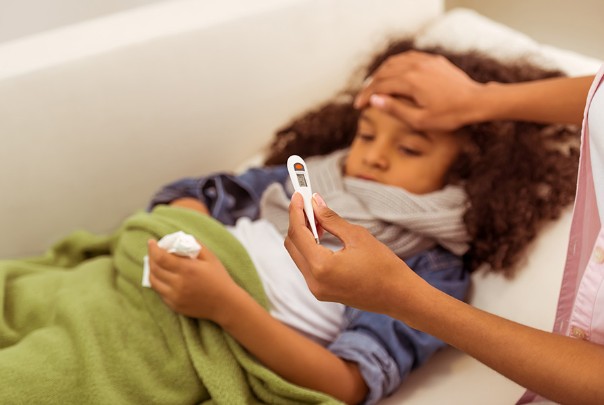 3 Common Flu Misconceptions
Catching the flu, also called seasonal influenza, can be a miserable experience—causing high fever, headaches, muscle aches, the chills, and fatigue. Avoiding the flu starts with education. Unfortunately, there are many misconceptions on how to prevent the flu. To stay healthy during this cold and flu season, learn the facts about the flu and educate your family on the following common flu misconceptions.
1. Bundling up in cold weather prevents the flu.
Wearing a jacket won't protect you from the flu. While warmer body temperatures have been shown to help prevent viruses from spreading internally, outerwear won't shield you from exposure to the flu virus in the first place. It's time to unmask the truth behind this piece of ill advice: getting the flu shot is the best thing you can do to protect yourself from the flu.
2. Winter is too late to get vaccinated.
While the peak of flu activity arrives between December and March, flu season can last as late as May. Lower humidity levels (which can dry nasal passages) and spending more time indoors in close proximity to others can make it easier for the flu to spread. No matter what month it is, it's not too late to protect yourself from the flu.
3. The nasal spray flu vaccine is as effective as the shot.
The nasal spray flu vaccine has not been effective against past flu viruses. For the 2017-2018 flu season, the CDC recommends only the flu shot for protecting you and your family against the flu. Adults and children six months of age and older are encouraged to get the flu vaccine. It's especially important for those who are more susceptible to flu-related complications: older adults, young children and infants, pregnant women, and those with compromised immune systems.

Learn more about the vaccine here. To get your flu vaccine, schedule a visit with a Baylor St. Luke's Medical Group primary care physician. Make a same or next-day appointment if you suspect you have the flu and need quick help recovering.
Sources:
Why Winter Weather Brings More Flu
Debunking Winter Weather Myths 
There's Still Time for Your Flu Shot
Flu Season's Starting to Rear Its Head
A Simple Way to Keep the Flu Away
No Drop in Flu Vaccinations Since Nasal Spray Withdrawn
Nasal Flu Vaccine's Demise May Mean Fewer Immunized Kids
Find a Doctor
---
Looking for a doctor? Perform a quick search by name or browse by specialty.