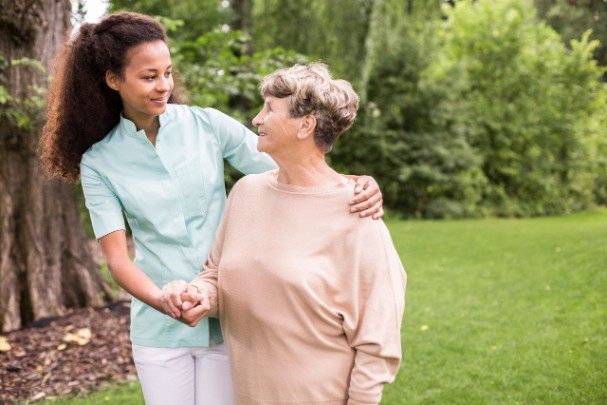 Alzheimer's and Emergencies
People with Alzheimer's disease need help with everyday tasks. Caregivers have an important responsibility to give them that help. In the event of an emergency, caregiver duties become even more critical. In recognition of both Alzheimer's Disease Awareness Month and National Family Caregivers Month, here are tips for Alzheimer's patient caregivers regarding emergencies.
Preventing Emergencies
You can make the home safer for those with Alzheimer's disease with these tips.
Remove clutter, throw rugs, and tripping hazards from walkways.
Install grab bars in the bathroom.
Remove the locks on doors between rooms.
Make sure there is plenty of lighting.
Test smoke alarms and carbon monoxide detectors regularly and keep a fire extinguisher on hand.
Reduce the temperature of the water heater to prevent burns.
Remove firearms from the home.
Keep medications out of reach.
Limit access to the kitchen area.
Common Problems
People with Alzheimer's disease may not be able to tell you what pain they are experiencing, where the pain is located, or how they are feeling in general. They may respond to illness with a change in behavior, yelling, or agitation. Common problems for people with Alzheimer's disease include:
If a person with Alzheimer's disease has a fever 2 degrees Fahrenheit above his or her normal temperature, seek medical attention. People with Alzheimer's disease have an increased risk of heart attack and stroke, so be aware of the symptoms of both.
Going to the ER
Going to the emergency room can be difficult for both caretaker and patient. To make the trip to an emergency center smoother, follow these tips.
Prepare an emergency kit ahead of time with a medical history summary, contact numbers, health insurance information, list of medications and allergies, a comforting item for the patient, advanced directives, and a change of clothes.
Consider calling for an ambulance for safer transfer.
Have a friend or family member meet you at the emergency center so someone can be with the patient at all times.
Explain the symptoms and how to best approach the patient to emergency staff.
Find a Doctor
---
Looking for a doctor? Perform a quick search by name or browse by specialty.