Our guide to self-care for caregivers + free habit tracker
Well-being means comfort, happiness, and health. And a lifestyle of holistic wellness involves physical elements, like diet and exercise, plus your mental health, supported by gratitude and positivity. As a caregiver, it's easy to get caught up in the well-being of others to the point of neglecting your own. But in order to care for others, it's important to care for yourself.
St. Luke's Health is home to a nationally ranked geriatrics program at the Baylor St. Luke's Senior Care Clinic that believes patient caregivers deserve just as much support as the patients themselves. An on-site social worker helps patients and their families identify resources in the community, cope with caregiver burden, and assist with future planning.
What does caregiver burnout, or caregiver fatigue, look like?
A caregiver experiencing burnout is often overwhelmed and has become physically, mentally, and emotionally drained. Caring for another person can bring on stress, burdens, and feelings of loneliness. Caregivers experiencing burnout may not be focusing enough on themselves, leading to a decline in the care they show others. Common symptoms of caregiver burnout include feeling anxious, avoiding people, feeling less control, having a lack of energy, and neglecting personal needs.
Doug Lawson, PhD, chief executive officer at St. Luke's Health and senior vice president of operations of the Texas Division of CommonSpirit Health, shares his insight into the challenges caregivers face day to day.
Last year, nearly 21,000 health care providers responded to the American Medical Association's COVID-19 for Caregivers Survey. The respondents cited that coping with the fear of exposing themselves and their families to disease, as well as constant work overloads and burnout, are all part of their daily routines.
What are ways to ask for caregiver support?
As a caregiver, it can be extremely valuable to ask those around you for support. It's not always easy accepting help, but delegating a few things on your to-do list can improve your well-being by opening up your schedule for self-care. Welcoming help from others and using your community is a sign of personal strength. Here are some things to consider when asking for help:
●      Consider the person's unique abilities or passions. Ask them to help with meal preparation if they love to cook versus filling out insurance forms.
●      Prepare a list of things that need doing. This list will allow the person you're asking to choose what they would like to help you with.
●      Pick the best time to ask. Reach out to a friend or loved one who isn't overwhelmed themselves. If they're feeling stressed, it might make them more reluctant to help.
●      Avoid making your request sound like it isn't a big deal. Let them know that even the small things can help tremendously. Shy away from starting your question with "It's only a thought" or "If it's not too much of a burden."
What are some self-care activities for caregivers?
As a caregiver, it can feel like you are always on the move, jumping from one activity to the next. Don't feel like you're letting someone down for taking a few minutes out of your day to spend time on yourself. Use this "pause and breathe" exercise, or deep breathing practice, a couple of times throughout your day to recenter yourself and release some of your stress.
Sit quietly in an upright position. Relax and try closing your eyes to block out all distractions. Become aware of the feelings in and on your body. What do your clothes touching your skin feel like? Notice the tension in your muscles and slowly start to let that go. Now, become aware of your breathing. Don't change anything about your breathing, just focus on each inhale and exhale. Before you end this pause, focus on what your body feels in this moment. Have any sensations changed since the beginning of the exercise? Lastly, thank yourself for this well-deserved break.
You can also incorporate movement activities, like walking and stretching, into the daily routine you have with the person you are caring for. Perform activities like meal prepping and cooking together, or do a hobby you both enjoy to destress. Another way to value your time with a loved one is to take advantage of virtual physician visits offered through Baylor St. Luke's Medical Group. There has been a significant movement to telehealth functionality that cuts out the time spent driving to the physician's office and then waiting for them to see you.
Being a caregiver, you have two schedules, sets of appointments, and lives to keep track of. It's essential to make sure your own well-being doesn't begin to fade. Schedule your annual wellness visit with a Baylor St. Luke's Medical Group primary care physician today. We want to ensure you receive quality and compassionate care; that way, you can continue to do the same for others.
Save this blog for later!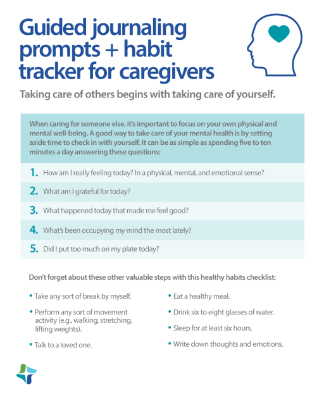 Find a Doctor
---
Looking for a doctor? Perform a quick search by name or browse by specialty.