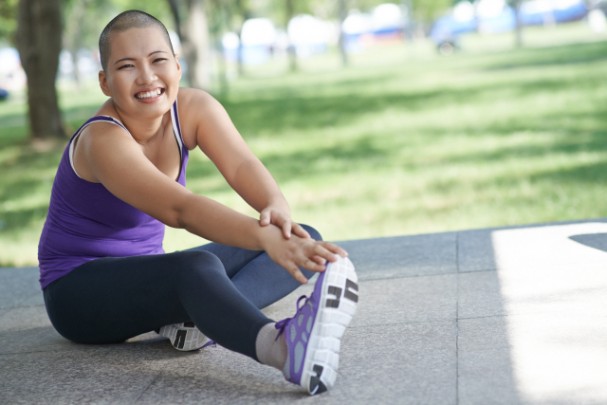 Thriving After Cancer: Tips for Survivors
You've finished your last cancer treatment, and you're ready to return to the routine you had before your diagnosis. But you might not recognize your new, cancer-free life. You may be experiencing different emotions, or things might simply feel different. Adjusting can be overwhelming, but with a few alterations to your new lifestyle, you can do more than just survive—you can thrive.
Express Yourself  
Keeping your emotions bottled up can stress you out and make you feel alone. Find a trusted family member, friend, or counselor, and share your feelings with them. Life after cancer can be a tumultuous time of conflicting emotions, with moments of relief mixed with periods of anxiety. Talking over your concerns with a confidant can help you feel heard.
If you'd prefer to speak with someone who is going through the same thing as you, seek out a support group for cancer survivors. Depending on your location, you might be able to find groups specific to your type of cancer or age range. Take some time to go online and search for in-person support groups close to you, or try out the Cancer Survivors Network, the American Cancer Society's online support group.
Get Moving
Now that you have fewer doctor's appointments, you probably have more free time on your hands. One hobby to try: physical activity. Not only is exercise an essential part of a healthy lifestyle, but it also can reduce your risk of a cancer recurrence or second cancer, according to the National Cancer Institute. Exercise also lowers your levels of stress hormones and stimulates the production of hormones that help you relax and boost your mood. Speak with your doctor about creating a safe and healthy exercise plan.
Eat Up
If your diet isn't the healthiest, take some time to revamp your weekly menu. Opt for fresh foods instead of processed items and snacks filled with salt or added sugars. Fruits, veggies, whole grains, legumes, and nuts are tasty and nutritious additions to your diet. When grocery shopping, stick to the perimeter of the store—that's where they often keep all the fresh stuff.
Have a Plan
Many cancer survivors struggle with the unpredictability of their future. With concerns about cancer recurrences, it's easy to fall into a rabbit hole of stress. One way to overcome uncertainty is by learning the facts about recurrent and second cancers. Speak with your oncologist about steps you can take to stay as healthy as possible and read up on the cancer screenings people of your age and gender need. Taking control of an uncertain situation can bring peace of mind.  As you step into a life without cancer, speak with your St. Luke's Health oncologist to develop a schedule for oncology, primary care, and specialist appointments. Mapping these out over the coming months can give you a clear path for monitoring your health.
The Dan L Duncan Comprehensive Cancer Center at Baylor St. Luke's Medical Center is one of two NCI-Designated Comprehensive Cancer Centers in Houston and offers a variety of resources for people with cancer from diagnosis to remission.
Sources:
American Cancer Society | Life After Cancer
American Cancer Society | Cancer Survivors: 6 Tips for Staying Healthy
Harvard Health Publishing | Exercising to relax
Find a Doctor
---
Looking for a doctor? Perform a quick search by name or browse by specialty.