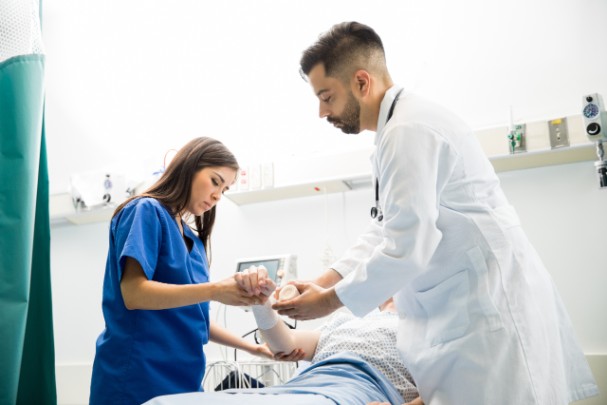 Why the Wait? And Other Common ER Questions
Making the call to go to the emergency room is typically accompanied by feelings of stress and anxiety. You or someone you care about needs immediate medical attention, and you usually don't have spare time to make fully informed decisions. We're sharing answers to three of the most common questions regarding the ER to put your mind at ease.
Is the ER the right place for me?
Life-threatening conditions, such as heart attack, stroke, and major trauma, require immediate medical care. In these situations, the ER can provide the quickest and most comprehensive medical solutions. Urgent care facilities and primary care physicians can typically provide faster and more affordable treatments for less critical issues like sinus infections, minor cuts, and sprains. Use our helpful infographic to determine where you should go based on your symptoms.
How long will I have to wait?  
Your wait time in the emergency room depends on the severity of your condition. When you check in, a triage nurse performs a physical exam and checks your vital signs to determine how immediately you require medical attention. If your condition is less severe than others', you'll have to wait until a doctor is available. However, if someone new enters the emergency room with a high-level emergency, they will jump to the top of the list. Consider locating your nearest hospital-based freestanding emergency center as these facilities typically offer shorter wait times compared to a hospital emergency department.
What should I bring with me?
If possible, bring any medical records and medications you have on hand. Sharing these items with the care providers in the emergency room will save time and can prevent harmful medication interactions. You can also call your primary care physician and ask them to share your existing medical conditions and medications with the emergency room staff to better coordinate your care. Finally, if your injury is of lower severity and you think you might have a long wait ahead of you, bring something to distract you, such as a book. Check out our ER Visit Prep Guide so you can be ready to go.
When a life-threatening medical event occurs, call 911 and visit your preferred ER. In the event of an emergency, one question you shouldn't worry about is where to go. Find some peace of mind and locate a St. Luke's Health emergency department near you.
Sources:
U.S. News & World Report | Enduring Really Long Waits at the Emergency Room

Find a Doctor
---
Looking for a doctor? Perform a quick search by name or browse by specialty.