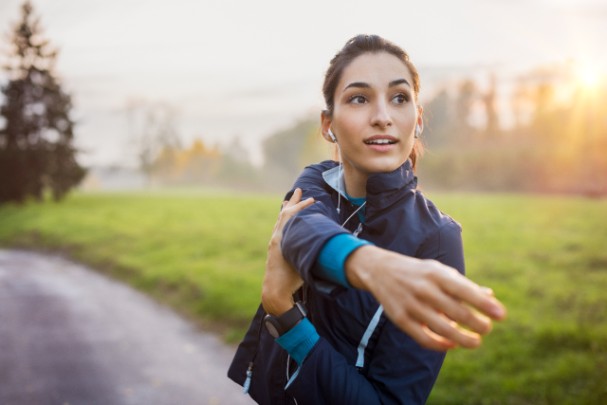 3 Reasons You Should Exercise in the Winter Chill
As the temperature drops and the wind picks up, it can be tempting to take your run to the treadmill or even just curl up at home under a warm blanket. Don't let the chilly air give you cold feet when it comes to your routine, though — exercising in the cold has some great benefits! Here are just a few ways taking advantage of the weather can reinvigorate your winter workouts.
1. Outdoor Workouts Can Make You Happier 
Let's face it — the reduced sunlight in the winter can put a damper on your mood, an effect known as seasonal affective disorder. Moving your workout from the fluorescent-lit gym to the sunshine of a brisk winter's day can boost your mood. Just don't forget the sunscreen! Winter sun can still cause UV damage, so be sure to put on some SPF before heading outside. 
2. Crisp Temperatures Can Help Improve Your Game 
During the hotter months, the heat and humidity can make an outdoor workout tougher, but the fresh chill during the winter might just put a pep in your step. With this new burst of energy and mental alertness, you have the potential to surpass your personal record in distance, speed, or duration. 
3. Exercising in the Cold Can Benefit Your Heart
While all forms of exercise during any season are beneficial for your cardiovascular health, the cold weather can increase this benefit. Your blood vessels constrict in the cold, and your heart gets more of a workout in its effort to circulate blood throughout the body. However, this extra work for the heart can be dangerous for people with cardiovascular conditions, so be sure to speak with your doctor before trying anything new. 
Overcome the cold with the help of our team! Before altering your existing fitness routine, schedule an appointment with your Baylor St. Luke's Medical Group primary care physician to find the healthiest way to do so. For more advice on upping your fitness game, visit a Baylor St. Luke's Medical Group orthopedic or sports medicine physician or sign up for the St. Luke's Health Run Club.
Sources: 
Healthline | Feel the Brrr: Exercising in the Cold Can Give Your Workout a Boost
NPR | Could Exercising In Frigid Temperatures Make Us Healthier?
HuffPost | 7 Big Benefits Of Exercising Outside This Winter
AccuWeather | Skip the gym this season: Why exercising in cold weather is so beneficial for your health
Women's Health | Cold-Weather Workouts
Find a Doctor
---
Looking for a doctor? Perform a quick search by name or browse by specialty.