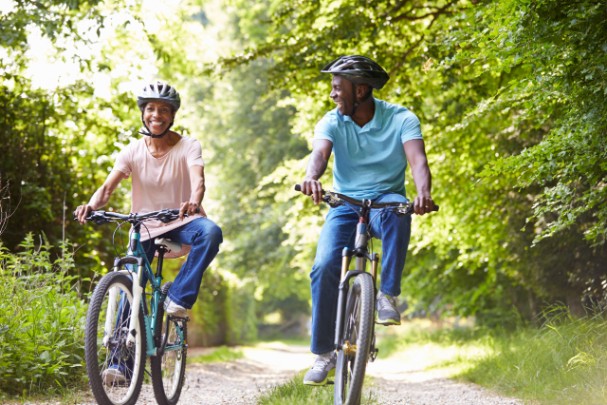 Let's Roll: The Benefits of Biking
Ready to roll? Cycling is an excellent form of exercise for all skill levels, and the equipment is available in most gyms or for rent in some cities. Plus, there isn't a steep learning curve, and it's easy to jump right in. The positives don't stop there, though! When you put the pedal to the metal, you can experience a multitude of benefits.
Work of Heart
Exercise makes your heart beat faster, pumping oxygen and blood throughout your body. Over time, this effort can strengthen your heart and reduce your risk of developing some chronic diseases. The U.S. Department of Health & Human Services recommends a minimum of 2.5 hours a week of physical activity for the average adult, and cycling can be a fun way to work in aerobic exercise.
Burning Rubber… And Calories
Looking to lose weight? Depending on your intensity, cycling can burn up to 740 calories an hour. If you prefer to keep a more leisurely pace, it's still possible to use up a significant amount of calories if you keep at it for an extended period. Whether you're on a stationary bike indoors or pedaling through the park on a sunny day, cycling can help you meet your health goals.
Path of Greased Resistance
The pedals on the bike act as a form of resistance, requiring you to push down to complete the action. This is the basis for forming muscle. If you are cycling on a stationary bike, you can even increase the resistance level as you get more comfortable to continue to build strength in your legs.
Wheeling and Healing
Did you know biking is a good activity for people with joint pain? If you have knee issues, biking offers a low-impact experience as the seat supports the weight of your upper body. Also, repeatedly moving your knees in their full range of motion encourages the production of synovial fluid, which lubricates the joint and can reduce pain.
Are you ready to start riding but don't have a bike? St. Luke's Health is a proud partner of Houston BCycle, and we're offering membership promo codes when you sign up for one of our fitness challenges! Before beginning any new fitness routine, share your plans with your Baylor St. Luke's Medical Group primary care or orthopedic physician. They can help you create an exercise program to fit your body's needs and make sure you're healthy enough to get started.
Sources:
Healthline | What Are the Benefits of Cycling vs. Running?
Harvard Health Publishing | The top 5 benefits of cycling
Women's Health | Cycling Vs. Running: Which Is A Better Workout?
Arthritis Foundation | Biking is Great For Your Joints
Find a Doctor
---
Looking for a doctor? Perform a quick search by name or browse by specialty.